New Exhibit Explores the Stories Behind War Ink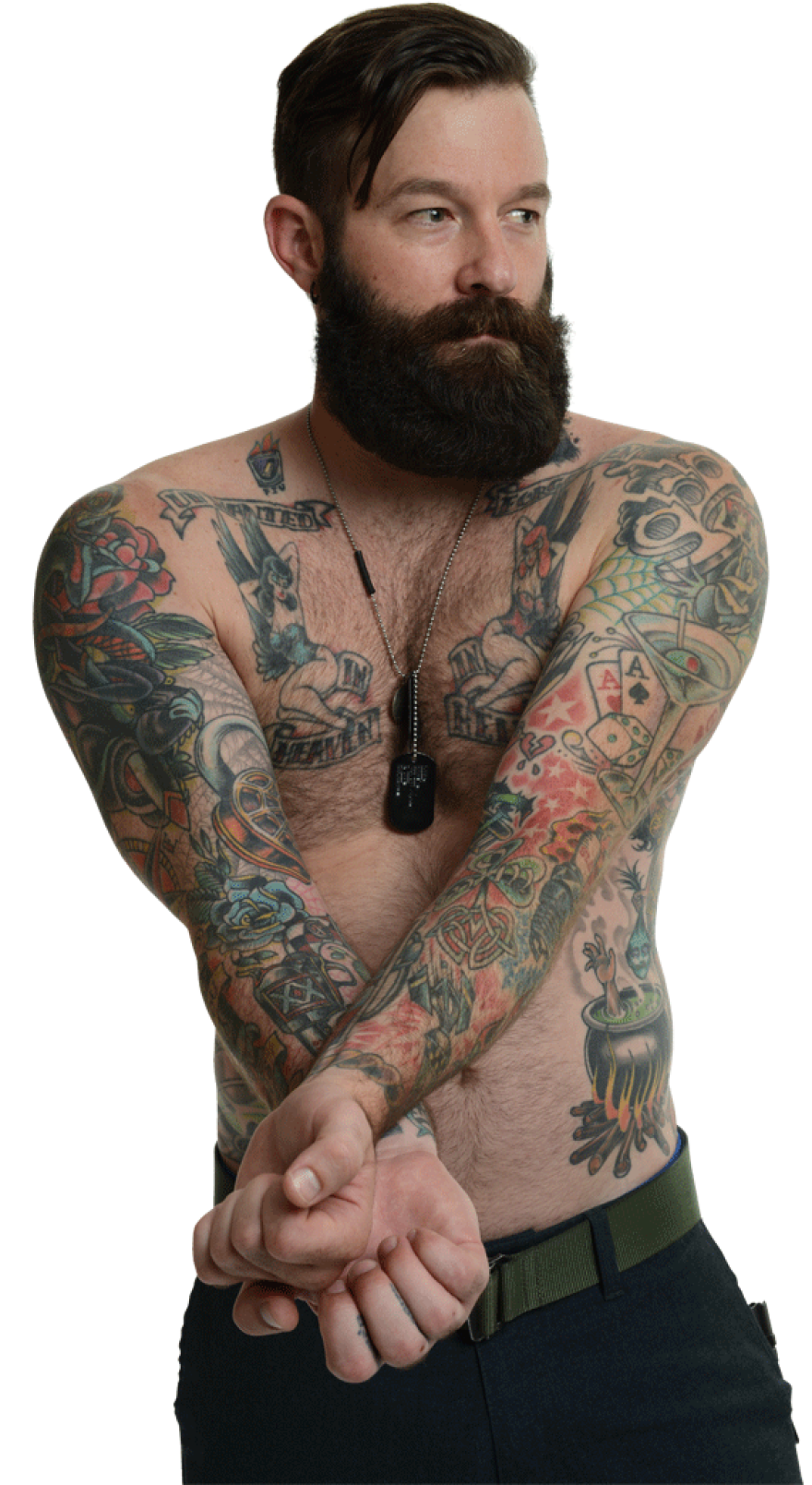 A new online exhibit featuring war veterans from recent conflicts, including Iraq and Afghanistan, aims to start a conversation between civilians and vets through the shared form of expression of tattoo art.
War Ink is an mutli-media exhibit featuring the stories and tattoos of 24 California veterans, including a few from the Monterey Bay Area.
Chris Brown (CB) with the Contra Costa County Library is co-creator of War Ink.
KA: What set you out on this project?
CB: So I was working with a veteran advocate, Jason Deitch, who is the co-creater of War Ink and my project partner. We were developing information programs for veterans. And as we worked together we started to see how a lot of Iraq and Afghanistan veterans and these tattoos on their skin, but they were also very intricate tattoos. They really told a story.
And as Jason and I, who is a veteran himself and a military sociologist, started to look at the research about what effects veterans when they reintegrate back into civilian culture, we saw how there was this trend of alienation and isolation. And a lot of the recommended steps were, to combat this, to tell more of the veteran narrative, so that veterans come home and they see their story reflected in the community.
KA: The online exhibit is broken up in to chapters, each rich with audio, video and photos. What's the narrative you are trying to create?
CB: We're trying to give folks back home first the insight into the fact that although there's a divide between these two cultures that these people are the same members of our community that we grow up with. We played little league together. We went to high school together. It's just that they've then gone to serve in war and that does change them forever.
And when they come home to communities that don't have a sense of what that change meant for them, that can be alienating. And so we're trying to bridge that divide between the two cultures with some awareness of what they go through.
The web site, War Ink, has four chapters that detail who they were before they served, how war changed them. The scars, the things that stay with you from war, and also how they're trying to rise out of that experience to really not just survive, but to be living.
KA: With the tattoos, what did you find the tattoos meant to the veterans. Was there something unifying beyond that fact that they all had tattoos?
CB: There was a great level of diversity. The tattoos run the gamut of memorial tattoos to people who literally died in war that they served with to tattoos like your local veteran, Ryan LeVa, who has this gas mask tattooed on his side. This gorgeous piece of art that you can see on the web site, and you know he talks in the exhibit about how that was his protection from something he couldn't' see. So that tattoo really tells a story of the risk and the dangers that they survived while they're serving in combat.
KA: You mention Ryan LeVa, a Santa Cruz native and Iraq War Veteran, StoryCorps recorded audio of LeVa for War Ink, let's listen.
RyanLeVaWarInk.mp3
Ryan LeVa from WarInk.org
KA: And now that pistol is tattooed on his arm.
CB: Yeah, he talks about how he came back home from serving in war, and how that was such an extreme experience for him, that he needed to change in a radical way. And a lot of the veterans talk about that as well that there's nothing that could've prepared them to survive or realize what they're going to go through.
You can see the exhibit which also features veterans from Capitola and Salinas at WarInk.org