00000177-1fcd-db48-a97f-dfcf929b0000 Note: This page is not being updated as of the first week of December, 2020.Welcome to KAZU's Election Coverage and Resource Page. Here you'll find election results, helpful links and stories. Follow us on Twitter and Facebook for more information.ELECTIONS FROM NPR: Live 2020 Election Updates & ResultsPresidential | Senate | House | Gubernatorial | California LOCAL ELECTION RETURNS FROM COUNTY & STATE:Monterey | Santa Cruz | San Benito | CaliforniaCentral Coast Local November 2020 Election ResultsHELPFUL LINKS: CALIFORNIATrack your ballot MONTEREY COUNTYMonterey County Elections websitePhone: 831-796-1499Email: elections@co.monterey.ca.us SANTA CRUZ COUNTYSanta Cruz County Elections Department website Phone: 831-454-2060 Email: info@votescount.com SAN BENITO COUNTYSan Benito County ElectionsPhone: 831-636-4016Email: SBCVote@cosb.us KEY DEADLINES:November 3: Last day to vote!November 29: Deadline to cure a missing or non-comparing signature.December 1: Deadline to certify presidential contest.
Voters Make Their Mark At Aptos Polling Place
Since California's primary was earlier this year, many voters felt their voice really counted this time around. KAZU's Erika Mahoney visited a Monterey Bay area polling place on Super Tuesday to get a taste of how voters, old and new, made their mark.
Michelle Loxton (ML): So you visited a polling place in Santa Cruz County, what was the turnout like?
Erika Mahoney (EM): Yeah, I visited a polling place in Aptos, at an assisted living facility. It was busy. There was a steady stream of people coming in to either drop off their ballot or vote in person. The polling place covered two precincts. I spoke with both inspectors who said they've worked in many elections yet this was one of the most energetic and active elections they've experienced in a while.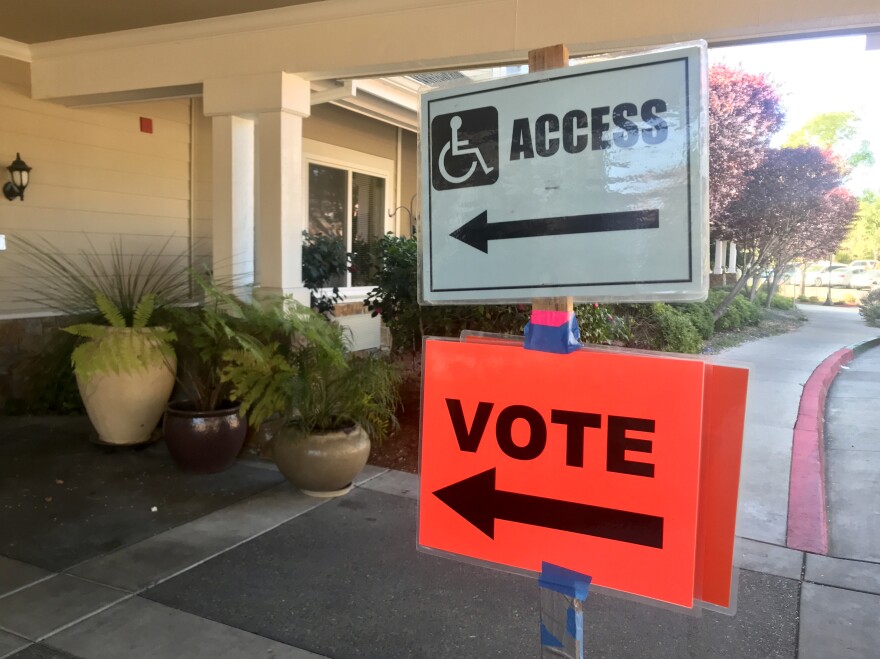 ML: Did you get to speak with any first time voters?
EM: Yes, and when they mentioned they were voting for the first time, all of the poll workers would clap and applaud.
I spoke with Rafael Vargas. He's 19 and a second-generation Mexican-American. He attends Cabrillo College, which is near the polling place. He said when everyone started applauding for him he got a bit flustered, but that it meant a lot.
Here's Vargas -
"[Laughing ] I got really red-faced. But yeah, it made me feel good. There's like, you know, a room full of people that are happy that I'm voting," Vargas said.
I also spoke with Allyson Zuleta, a new voter as well. She's the first in her family to attend college. Her mom is from Mexico. Zuleta said she voted for Bernie Sanders.
"He cares about working people. And I think it's important to acknowledge those who are underrepresented and don't have a voice or [are] disenfranchised," Zuleta said.
ML: Was it mostly Bernie Sanders supporters at this particular polling place?
EM: No, not necessarily. I'd say most of the younger voters I spoke with voted for the Vermont Senator, who identifies as a democratic socialist. But for older voters, it was a mix… Elizabeth Warren...Joe Biden. Biden got endorsements from Amy Klobuchar and Pete Buttigieg, both of whom dropped out right before our primary. And I will say several people did mention they had to rethink their choice last minute because of this.
ML: So that's what people shared about the democratic presidential primary. Were voters keen on telling you how they voted in local races?
EM: Definitely and a few mentioned that the local contests are just as important as the national ones. I spoke with Rebecca Downing right before she cast her ballot. When it came to the [Santa Cruz] county supervisor race for her district, district two, she voted for Zach Friend, the incumbent. She also said she's voting for democrat incumbent Jimmy Panetta in the 20th Congressional District race. Panetta is the son of longtime local congressman and Washington insider Leon Panetta.
Here's Downing on Jimmy Panetta:
"You don't love dynasties, but sometimes that institutional memory is passed down and the call to service. So that's not a bad thing," said Downing.
She did mention she'd like to see California have a bigger voice in Washington.
ML: And what would you say are the top three issues you kept hearing about from voters?
EM: The environment and climate change. Housing and healthcare. Not in any particular order.
That's KAZU's Erika Mahoney giving us just a taste of how voters made their mark at one polling station in the Monterey Bay area.