New Homeless Shelter On The Monterey Peninsula Promises A Good Night Sleep
The Monterey Peninsula is getting its first shelter specifically for single homeless women and families with children, including single fathers. According to the most recent homeless census, 35 percent of those without a place to call home are women and 25 percent are families in Monterey County. But that census was a year ago. After months of COVID-19, that number is expected to grow.
Theresa Henderson crochets soap sacks for the homeless. Each contains a bar of soap and they double as a washcloth. She hopes the soap sacks reassure the receiver they are not forgotten.
"You know, like, hey, there are people out there that still care. That still, you know, we might not see them or talk to them every day, but there are people that still care," Henderson said.
Her gift holds a connection to her past. Henderson used to be homeless herself. About 30 years ago, she escaped an abusive relationship.
"I was trying to make a plan for a while, but it's hard. I saved $56 in three years and that's what I left with. Fifty-six dollars and we got on the Greyhound bus," she said.
Henderson arrived in San Francisco with a backpack of clothes and her two-and-half-year old daughter in her arms. It was a scary time.
"Your mind is like going a million miles an hour and it's so scattered because you don't know where you're going," Henderson said.
Henderson's past is one many are living today. Domestic violence and poverty are two of the biggest factors in women becoming homeless, according to those behind the Monterey Peninsula's new shelter. And once they're homeless, staying safe and having enough to eat are the biggest challenges.
Robin McCrae is CEO of Community Human Services. The nonprofit is opening the new shelter for single women and families with children in partnership with the nonprofit Gathering for Women. McCrae said it's a strong pairing because Gathering for Women specializes in helping women who are homeless and CHS has decades of experience helping families.
While the City of Monterey has a shelter for homeless youth and there are programs for homeless women in the area, this shelter will be the first on the Monterey Peninsula for single women and families with children, including single fathers.
It's located in a county building on the corner of Olympia and Noche Buena in Seaside. Noche Buena means "good night" in Spanish, which inspired the shelter's name, Casa de Noche Buena.
State funding from the Homeless Emergency Aid Program was the catalyst for the shelter. Monterey and San Benito Counties' Continuum of Care received $12.5 million and the continuum's Leadership Council administered the money to local projects last year. About $1.6 million went toward improvements of the Casa de Noche Buena building. Individual donors and government and private grants made up the rest of $1.75 million needed. Costs for operating the shelter will be raised continuously.
The shelter will have 10 bedrooms, a kitchen, dining room, activity room and laundry room. Half of those staying there will be single women and the other half will be families. But Casa de Noche Buena won't just be a safe place to sleep. Case management and counseling will help shelter residents look at everything from their employment to mental health and substance abuse history. The ultimate goal is to find permanent housing.
"So we'll start on the first day talking to them about housing and where they'll be when they leave the shelter and how we can help them take the steps to move into permanent housing," McCrae said.
People will be able to stay for 90 days, or six months if extra time is needed. That extra time could be helpful in an area that's home to a shortage of affordable housing. But McCrae points to some recent success, the 100 Day Challenge to End Youth Homelessness, which kicked off in June. Nearly 20 local organizations housed 36 youth between the ages of 18 and 24 and the work has not stopped.
The shelter is scheduled to open in January. But opening in a pandemic is difficult. McCrae says they were expecting to serve between 30 to 38 people. To maintain social distancing, capacity will be reduced to about half until the COVID-19 vaccine is widely used.
At the same time, the shelter feels more needed than ever. McCrae says more people are seeking services, afraid they'll become homeless.
"It's been since March already that some people have been out of work and you can only suspend your rent or your mortgage payments for so long before legal action is taken. So I think that we need to be prepared for people to start becoming homeless and be prepared to help them."
For Thomas Muir, Casa de Noche Buena will be one more resource to let people know about.
"Last year, when all of this was getting planned, I had a couple of women, younger women, that both passed earlier in the year that were living on the streets that would have benefited from this," Muit said. "I feel like it would have made a big difference in their lives."
Muir is based out of the E.R. at Community Hospital of the Monterey Peninsula. He's the community outreach program lead for Community Health Innovations, part of Montage Health. He's also part of the Multi-Disciplinary Outreach Team (MDOT) with Monterey Police and local social services organizations, which works directly with homeless people to get them the help they need.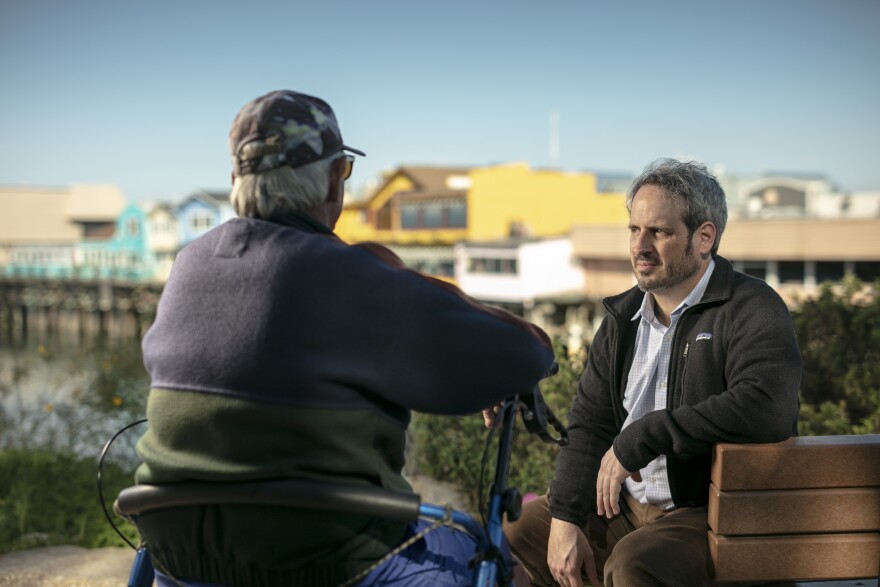 More resources are needed locally, Muir said. With the daily challenge of trying to survive, he said it's extremely hard to word toward stability. He's looking forward to the opening of Casa de Noche Buena and hopefully saving some lives.
"There's a lot to be said for having that reassurance that you have a bed to sleep in and you don't have to worry about moving your items around, that your kids are going to be safe," he said.
After experiencing homelessness with a baby, Theresa Henderson was able to change her life. She got into low income housing, went back to school and got a job in a hospital. Today she lives in Seaside and she would love to volunteer at Casa de Noche Buena and spread a message of hope.
"I can show them that, hey, it might look bad now, but if you keep up the hard work and you want to do better, you know, great things can come," she said.
Community Human Services and Gathering for Women are some of the many organizations that support KAZU.