A Winter Without Monarchs In Pacific Grove - Butterfly Town, U.S.A
On a chilly December morning, Bree Machuca walks into the entrance of Pacific Grove's Monarch Butterfly Sanctuary. With binoculars in hand, she's searching for the orange and black symbol of the coastal city. Pacific Grove is nicknamed "Butterfly Town, U.S.A." becausethousands of western monarchs usuallyspend the winter there. But this year, its sanctuary is empty.
"We can't find anything. It's very disappointing because I was expecting at least we'd see maybe a few hundred, I'd see one or two," Machuca said.
Eucalyptus leaves crunch beneath Machuca's feet as she looks high and low for any sign of the butterfly. The clipboard she's holding with tally papers is blank. It's Machuca's first year participating in the annual Thanksgiving and New Year's counts for western monarchs. She's the community science specialist for the Pacific Grove Museum of Natural History, which organizes tours at the sanctuary and provides docents in non-pandemic years.
Usually, monarchs can easily be spotted throughout the sanctuary, hanging in clusters along the branches of the eucalyptus, Monterey cypress and pine trees that tower over a meandering dirt path. This winter, it's a completely different scene. Despite the occasional monarch fluttering through, none have spent the night.
"Right now, I just hear stories of what I would see, pictures of everything that I would be looking for," Machuca said.
Back in 1997, 45,000 monarchs showed up to the sanctuary. It's an overwintering site, a place where monarchs spend the winter. Eastern monarchs overwinter in Central Mexico and western monarchs come to California's Central Coast. These spots offer "Goldilocks" environments; they're not too hot, not too cold and protection from the wind. Pacific Grove's monarch sanctuary was one of 400 overwintering sites for western monarchs. This winter, three-quarters of those sites are empty, according to the Xerces Society for Invertebrate Conservation, an international science-based nonprofit that works to protect monarchs.
"I've gone to 23 sites so far this year. I've seen 15 monarchs," said Connie Masotti.
Masotti has been counting western monarchs for ten years. For the past two, she's served as the regional coordinator for Monterey County with the counts.
"It's very hard. Some of us are having what we call a therapy session where we're all getting together to, number one, mourn what we're seeing," she said.
Counters up and down the West Coast are seeing the same thing. The Xerces Society, which facilitates the annual counts, expects the total from the Thanksgiving count to be less than 2,000 monarchs overwintering in all of California. According to Xerces, the western population has declined by 99.9 percent since the 1980s and the eastern population has declined by 80 percent.
"I've actually sat in the parking lot the first couple of times and I cried in my car because I've seen it coming, but I did not think I would not be able to find one monarch," Masotti added while searching in Pacific Grove's sanctuary.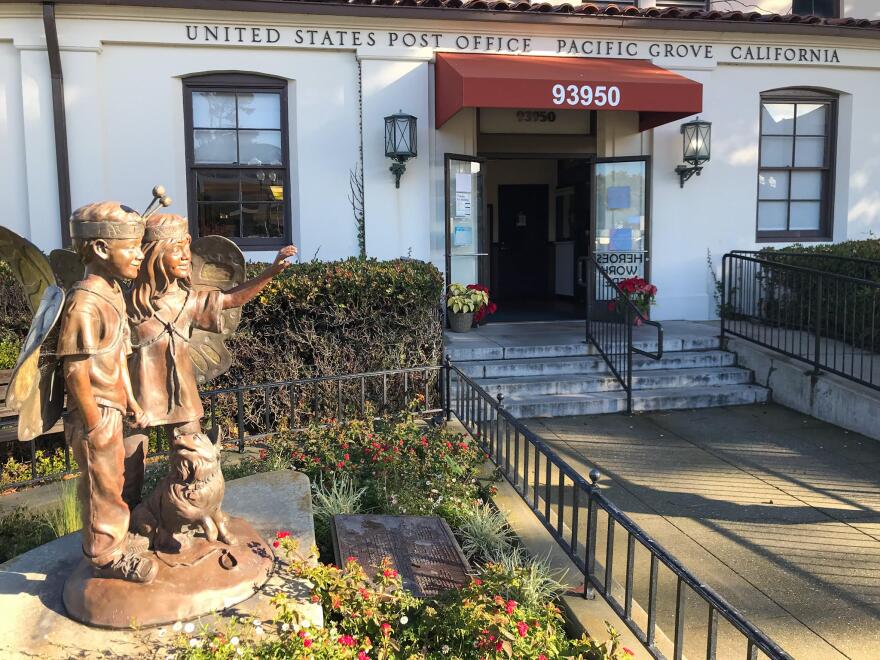 Pacific Grove has embraced its connection with the butterflies. In October, a parade and bazaar celebrate the return of these creatures. It's been an annual tradition since 1939. In front of the Pacific Grove post office, a statue of children dressed in monarch costumes greets customers. The butterfly is even on the city's official logo.
The decline of monarchs has been gradual but accelerated in the last few years.
"I think that was a wake up call to a lot of people and agencies that we had taken the monarch for granted, that it would always be here because they were so prolific," said Masotti.
One of the biggest threats to the population is the development of overwintering sites for housing or golf courses. Habitat loss from climate change is another big factor. Even small changes can have big consequences.
"It doesn't take but one of these big branches to go away and it changes the wind in this sanctuary," said Masotti.
Pesticides are also a big problem and wildfire can destroy overwintering sites.
But protecting monarchs is proving difficult. A California court recently decided insects, including butterflies, do not fall under the California Endangered Species Act. And last month, U.S. Fish and Wildlife said monarchs deserve federal protection but declined to list them as endangered. That's because an overwhelming number of species are already waiting. Now, federal wildlife officials will review the butterfly's status annually. Based on their workload, they intend to propose listing monarchs under the Endangered Species Act in three years.
Until then, it's up to people, nonprofits and communities to help. Pacific Grove takes monarch protection seriously. The fine for harming a monarch is $1,000.
Caleb Schneider, the environmental programs manager for Pacific Grove, directly manages the city's sanctuary. He said people have been calling him concerned about the butterflies.

"It's just devastating to them for their identity, and you know, their connection to their community."
Still, Schneider has hope. This year, he and volunteers planted 70 new trees in the sanctuary.
"We thought otters were extinct for quite some time and then they found a little group of them in Big Sur. So, there's always hope. It's amazing what nature is able to accomplish. We just have to provide nature the space to do it," Schneider said.
You can help too. If you live on the coast, plant native nectar plants like manzanita or black sage. Food that monarchs rely on during their stay.
Bree Machuca with the Pacific Grove Museum of Natural History recently created a video with several ways to help. Click here to watch it. The museum also has a list of 5 ways to help here.