Flooding, Mudflows And Outages. Monterey County's Vaccine Plan Explained. GM Says Goodbye To Gas.
Welcome to KAZU's weekly news roundup for 1/29/21. Here you'll find the top local stories of the week and a few select national stories from NPR.
Between last summer's wildfires, last week's wind storm that caused power outages and ignited 18 fires across Santa Cruz County and then this week's rainstorm that led to flooding, mudflows and evacuation orders, a pattern is certainly emerging -- climate impacts are getting more frequent and more severe.
On Tuesday, ahead of the approaching storm, we checked in Todd Stosuy, the field manager for the Santa Cruz County Animal Shelter. As he put it, "The disasters over the past few years have just been getting worse. We went from one every couple of years to now we're seeing disasters happen every couple of months. And people really do need to start getting prepared for a disaster that could strike at any time."
While Santa Cruz County was largely spared with the county reporting no debris flows, the storm stalled over Monterey County causing flooding and mudflows. Part of Highway 1 in Big Sur washed out at mile marker 30 near Big Creek Bridge. Crews will begin damage assessment Friday. About ten homes in the Carmel River Lagoon area flooded after the lagoon backed up. In the Salinas Valley, the National Weather Service reported a debris flow along a section of River Road. The River Road neighborhood in Salinas was hit hard. Mud blanketed the area and drone video of the damage made national news.
Humans were not the only lives threatened by the storm. A horse and pony were stuck in mud for around 18 hours. The animals were freed by rescuers from the Monterey County SPCA and other first responders, some who came in from different counties to help during the storm. The horse and pony were found stuck in the mud on Limekiln Road in Salinas, off River Road. Both animals were sent to the Steinbeck Country Equine Clinic for care.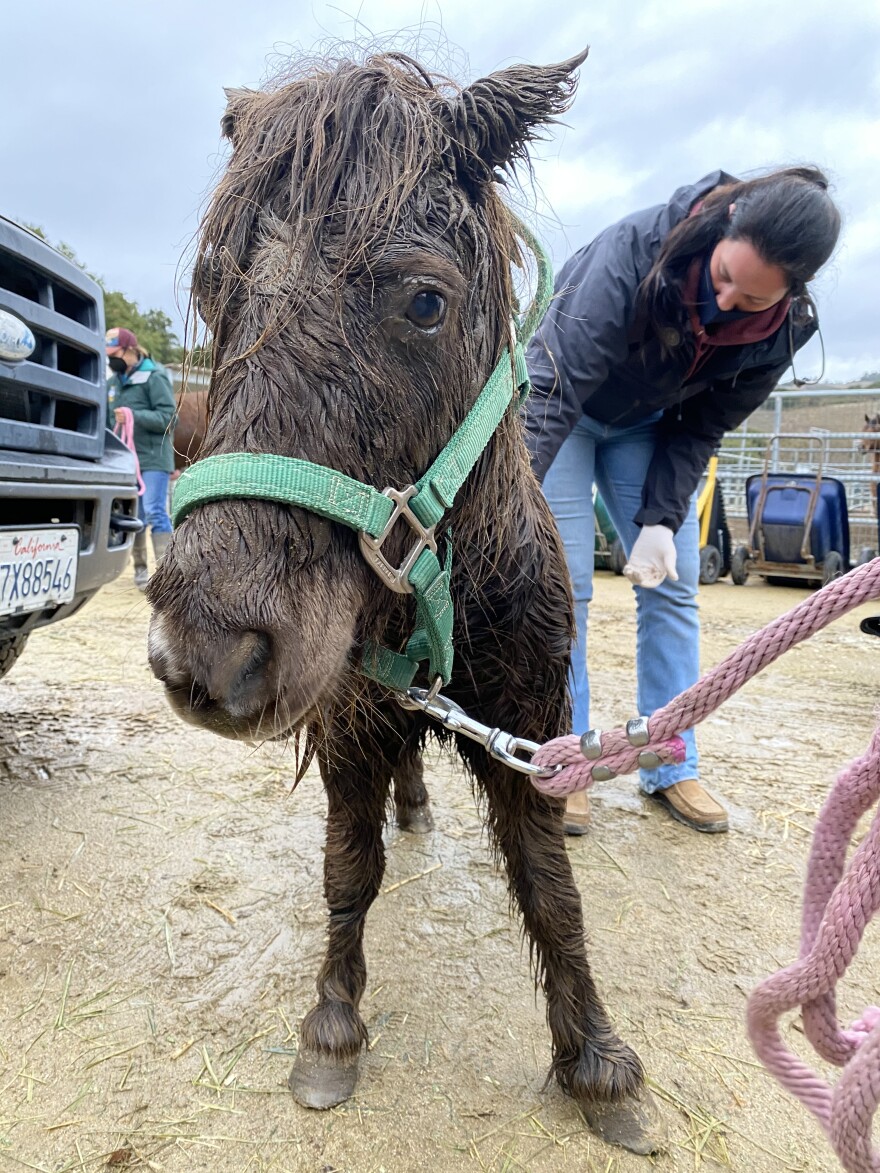 Red Cross volunteers worked with first responders to help those who were evacuated following the storms. They operated three Temporary Evacuation Points in Santa Cruz County and three in Monterey County, supplying important information for those forced from their homes. Eighty-one Red Cross responders provided 865 meals and snacks as well as 211 rooms to shelter 500 evacuees across our area.
KAZU News kept you attuned to the evacuation orders, weather changes, road closures and power outages on the air and online. We created two blog-style posts with updates and resources; one for Santa Cruz County and one for Monterey County residents.
Meanwhile, a pandemic is still raging on and getting the vaccine can feel like winning the lottery. On Tuesday, during the Monterey County Board of Supervisors' meeting, there was an update on the county's plan to distribute the vaccine locally. KAZU's Doug McKnight attended the meeting and provided some answers for our community. In case you missed the interview, you can listen to it on our website.
Monterey County offered a Spanish Language COVID-19 Town Hall to answer questions about the virus and the county's vaccination program. It was held on Wednesday, January 27 from 5:30 to 6:30pm. It can be accessed through Monterey County's YouTube Channel.
Santa Cruz County health officials had positive news to report this week -- after the holiday surge, the county has joined California in a downward trend of coronavirus cases. The county is wrapping up vaccinations in the first phase, which prioritizes healthcare workers. Next they will focus on people aged 75 and older as the county doesn't have enough vaccine supply yet for those younger. This week, the county ran a pilot drive-through COVID-19 vaccination center at the Watsonville Fairgrounds. Vaccinations were given to healthcare workers and Watsonville residents from specific zip codes that have been disproportionately affected by the virus. Given a steady supply of the vaccine, the county hopes to have regular clinics once a week at the fairgrounds beginning in February.
COVID-19 Updates as of Friday morning:
California health officials lifted the Regional Stay Home Order Monday for the entire state. That means we're back to the Blueprint For A Safety Economy framework, which puts individual counties into colored tiers, depending on their rate of coronavirus transmission. All but a handful of counties are in the most restrictive tier, or the purple one. Here are some highlights: outdoor dining can resume, you can get a haircut again, retail can open with higher capacity and non-essential businesses can reopen their doors.
Global health leaders took a deep dive into "what went wrong" with the pandemic at the recent annual meeting of the World Health Organization's Executive Board. The Board heard, virtually of course, from four panels. Goats and Soda, NPR's global health blog, highlighted six takeaways from the conversations, ranging from "time for fundamental change" to "inequality is a threat to everyone."
The pandemic understandably makes many of us nostalgic for days when it was easier to explore new places. KAZU sustaining member Jack Erickson of Monterey will be a guest on the next Travel with Rick Steves this week, which airs at 9 p.m. Friday and 2 p.m. Sunday on 90.3 KAZU, streaming at kazu.org. Erickson, a keen traveller and author, discusses where he would go if travel was not restricted. His choice -- an Italian town on Lake Maggiore, where he's been many times. Erickson shares more about Stresa here.
In national news, the House delivered an article of impeachment against former President Trump to the Senate on Monday. Ahead of the delivery, NPR White House correspondents Scott Detrow and Tamara Keith, along with congressional correspondent Susan Davis, answered some questions about the upcoming Senate impeachment trial in The NPR Politics Podcast. Maryland Democrat Jamie Raskin will lead the trial.
General Motors shook up the automobile industry this week by announcing it will abandon production of gas-powered vehicles in the next 15 years. The world's largest automaker said the switch to electric cars by 2035 is part of a broader effort to become carbon neutral by 2040.
President Biden signed four executive actions this week that aim to advance racial equity. When announcing the actions, Biden discussed the killing of George Floyd last year, which energized demonstrations across the U.S. and locally. Biden said because of what happened to Floyd, "the ground has shifted. It changed my mind and mindset." Read more about the four executive actions here.
We sign off by nodding to Cicely Tyson, an actor who gained fame portraying the wife of a sharecropper in the movie Sounder and won a Tony in her 80s. Tyson died this week at the age of 96. NPR reporter Elizabeth Blair paid tribute to Tyson, calling her "an elegant, dignified presence on stage and screen."
Until next week,
The KAZU Team